Erica Mena is a Model/Video girl who obviously has anger management problems. Below, you can see a video from earlier this year, attacking her child's father, Raul Conde (Terror Squad)  in Miami. Screaming, "You ain't sh*t N!**a!". However, Erica is not new to reality TV as she was also featured on Khloe and Kourtney Take Miami as she worked in Dash and helped them launch their Miami store. In the episode I saw, she was  going to be fired but Khloe could not muster the strength to fire her lol. On that show we didn't see the angry her but we sure did see the cockiness in her. Fast-forward to yesterday's episode of Love and Hip Hop, she is obviously a whole H.A.M. (Hot ASS Mess)! She came there clearly for some TV time and told Yandy to set her up with the right opportunity and she would go in. IDK about you, but to me that meant she would do whatever she needed to do to turn her one minute into two minutes. So, she started running off at the mouth to Kimbella saying she took money from her by doing jobs for free so on and so on then Kim snapped and start throwing glasses, then hair pulling and screaming ensued, then some running from the PO-PO. Question? How do you bring drama then call the cops??? I don't know either, ask Erica. Meanwhile catch the clip of her swinging on her BD below and kicking him in the face! -_-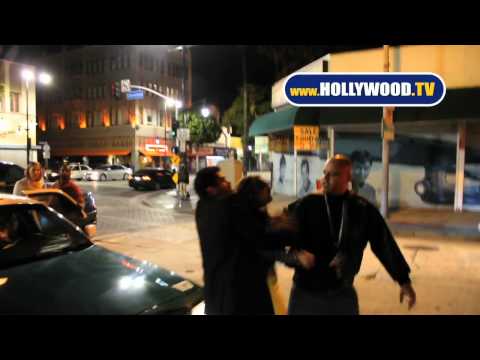 In other L&HH news, if you've been wondering where Somaya has been the past few episodes, VH1 cut her and she probably WON'T be seen until the last episode of the season and that's 4 more weeks from now! She hit up Mommy's Dirty Little Secret to attempt to explain her absence, her Twitter riot and what HAS been going on with her. Peep the interview below:
On why we haven't seen much of her:
I was in the first few episodes. I have no idea what happened because I did have a lot of story to add yet I don't see it on the show.  The fans made sure they bought me back! There was so much you didn't see this season, my life is on fast forward right now with great stuff happening and they showed none of it.  Like what happens with Swift, the album, the developing friendship with Chrissy, my rap single Eh Mama, my re-negotiation with Barry, my family issues, the image development, my signing with the top talent agency in Hollywood that I got by myself? What happened to all of  that?
What's going on with her now:
First of all I fired Maurice! After that everything fell into place.  I got my investor to commit. Not only did I get an investor but I negotiated a half a million dollar contract to a million dollar contract! That s*** is unheard of and I'm so proud of that. My fans and girls should have seen that. A woman taking care of business behind the scenes. I had to do a showcase to get the final commitment and I did it and had a major wardrobe malfunction! It was on the front page of entertainment weekly, AOL and Yahoo. I showed the show will always go on when I'm on stage!
On why she may have been cut from the show:
Maybe my s*** is too together, I have a fabulous love life that is functional. Swift as you saw from the show has been nothing but great to me.  They showed none of our relationship! I guess it's not dysfunctional enough. The sad part is women would have loved to see some positivity along with the drama and seen me find love! Women need to see if a woman like myself who has been through so much s*** and hard times can finally find a nice guy that treats me nice.  They have a chance!
What's up with her music career:
They are covering everyone else's music process and career development on Love and Hip Hop….interesting! After I signed with my investor I made a mix tape series called "Rebel with a cause" drops in Jan 2012.  Each tape has future album cuts on it!  They didn't show my team. Grammy award producer Richy Pena and a Denver team KMG.  I just signed with Rebel entertainment partners who also rep Mario Lopez, Eva Longoria and the list goes on! I have evolved so much since season 1… But fans didn't get to see any of it!
Will she be on any toher episodes:
Love and Hip Hop is on episode 6 out of 10 but I'm only on one more episode! Later there is drama with Kimbella and someone else… I walked Kimbella off the edge, I was a mentor because she is a nice person, I don't want her to lose her children or go to jail. I realize what she said was just bad timing at Emily's party. But she is a likable person in real life. I don't want that to happen to anyone, I'm just not cold hearted like that.  Oh and back to this note to anyone though, I can forgive but if you bring s*** to me it's on! But I'm not looking for it.
On using TV for exposure and  getting recognition from BEYONCE:
I guess I'm winning to hard both spiritually and career wise  **laughs** I'm in a great place and life is so good. To have die hard fans like I have is the ultimate compliment!

I recently met Beyonce while we were shopping for shoes and she said "Congratulations Somaya on your career and what you've accomplished I'm proud."  Remember I told Olivia about Beyonce? Beyonce has everything she wants in life and did not have to even acknowledge my presence. Yet  she was so humble and took the time to talk to me and tell me she knew me from the show and congratulated me. Now that shows class, and that is how all artists should be. If you know you a bad b***** then you don't have to hate on another artist. I nearly fainted at her humility! She has inspired me to go harder.
Now do we really believe Beyonce knows who she is and they were shopping inthe same shoe store. I mean it's not IMPOSSIBLE but one would think when Bey goes to shop they shuttin' the store down! Anywho, I wish Somaya the best, she seems less angry and like she said in a better place. KUDOS!